Scientific Programme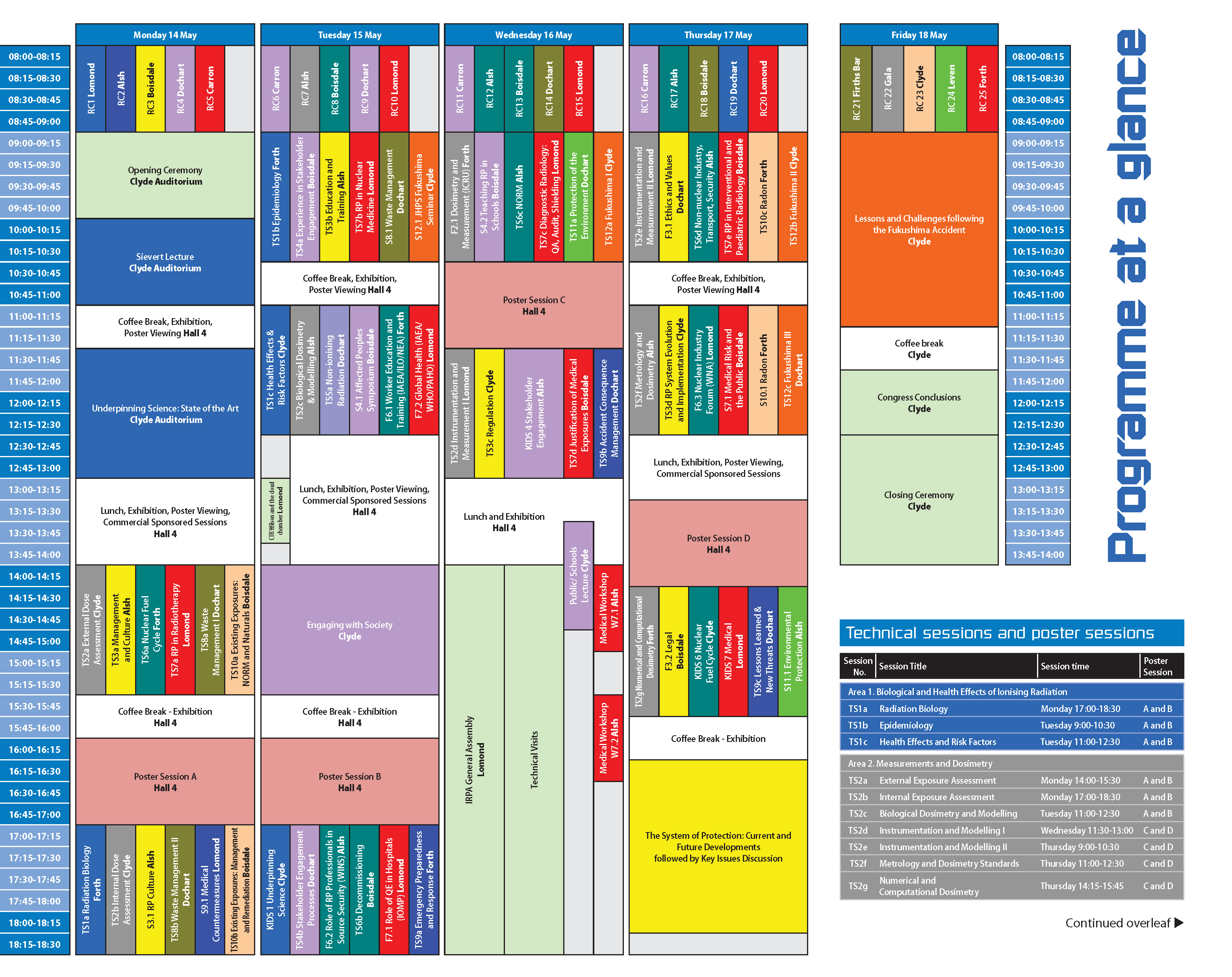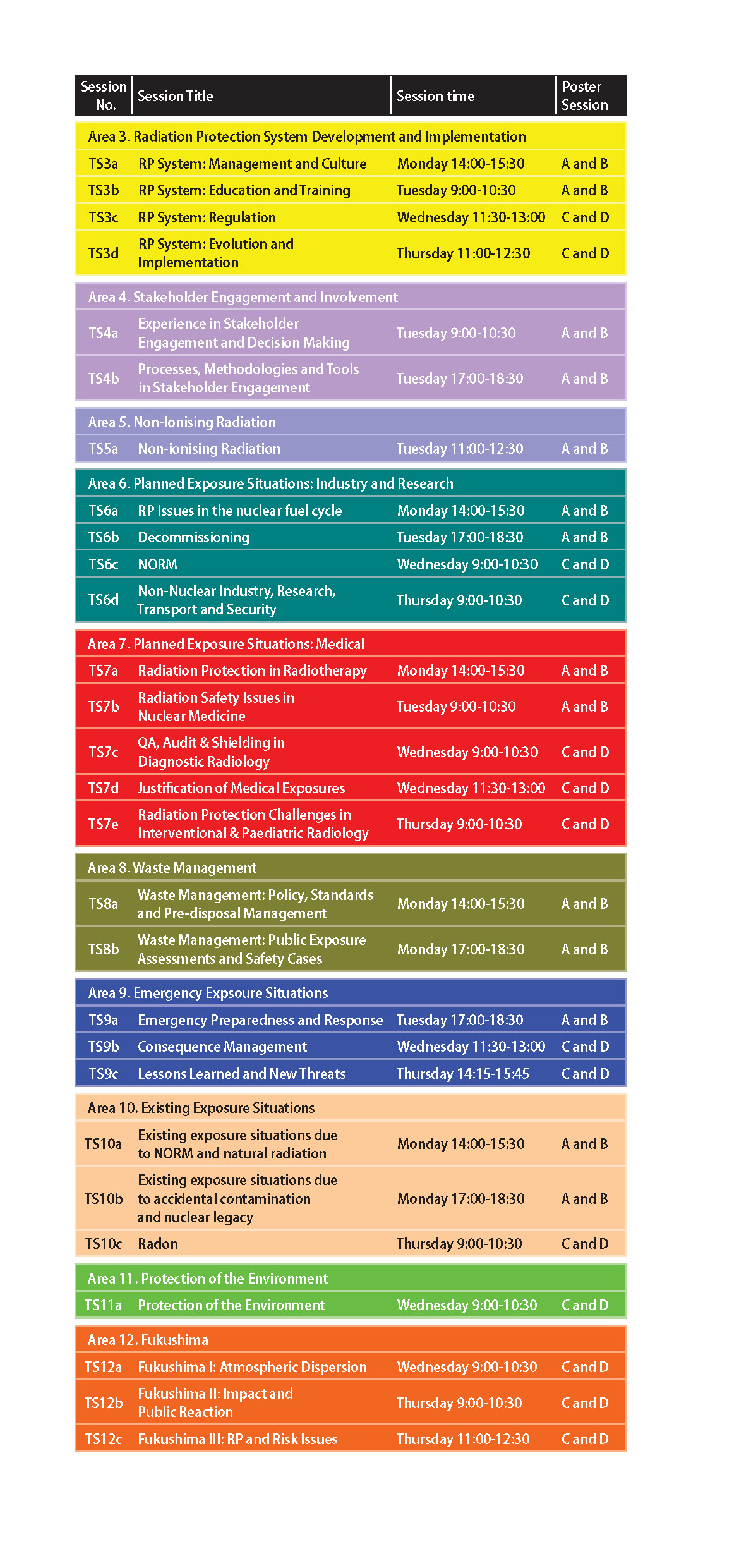 This presents an overview of the whole Congress, with the programme arranged in plenaries and parallel sessions (up to six sessions at a time). The schedule was colour-coded according to the technical area of each session.
Download the IRPA13 Abstract Book
Plenary Sessions
In addition to the formal Opening and Closing Ceremonies there were the following plenary sessions. These sessions, by the world's leading scientists and practitioners in their fields, presented overviews of the current state of key topics in radiation protection:
Sievert Lecture: Richard Osborne 'A Story of Tritium'
Underpinning Science: State of the Art
Engaging with Society
The System of Protection
Lessons and Challenges following the Fukushima Accident
IRPA Activities
Key Issue Discussion Sessions
These explored the current key issues in specific topics through expert discussion, and helped us move towards the principal conclusions from the Congress. Key issues were discussed in the following Topic Areas:
KIDS 1 - Underpinning Science
KIDS 3 - The System of Protection
KIDS 4 - Stakeholder Engagement
KIDS 6 - Nuclear Industry
KIDS 7 - Exposures in Medicine
Technical Sessions
Submitted papers which were selected for oral presentation were allocated within these sessions. Each of the 38 Technical Sessions aligned with a defined section of the Area/Topic map:
TS 1a - Radiation Biology
TS 1b - Epidemiology
TS 1c - Human Health Effects and Risk Factors
TS 2a - External Exposure Assessment
TS 2b - Internal Exposure Assessment
TS 2c - Biological Dosimetry and Modelling
TS 2d - Instrumentation and Measurement I
TS 2e - Instrumentation and Measurement II
TS 2f - Metrology and Dosimetry
TS 2g - Numerical and Computational Dosimetry
TS 3a - RP System: Evolution and Implementation
TS 3b - RP System: Regulations and Standards
TS 3c - RP System: Management and Culture
TS 3d - RP System: Education and Training
TS 4a - Experience in Stakeholder Engagement and Decision Making
TS 4b - Processes, Methodologies and Tools in Stakeholder Engagement
TS 5a - Non-Ionising Radiation
TS 6a - RP Issues in the nuclear fuel cycle
TS 6b - Decommissioning
TS 6c - NORM in Mining and Industry
TS 6d - Non-Nuclear Industry, Research, Transport and Security
TS 7a - Radiation Protection in Radiotherapy
TS 7b - Radiation Safety Issues in Nuclear Medicine
TS 7c - QA, Audit & Shielding in Diagnostic Radiology
TS 7d - Justification of Medical Exposures
TS 7e - Radiation Protection Challenges in Interventional & Paediatric Radiology
TS 8a - Waste Management: Policy/Strategy & Standards, Pre-disposal, Clearance & Exemption
TS 8b - Waste Management: Discharges & Public Exposure Assessment, Waste Storage & Waste Disposal Facilities
TS 9a - Emergency Preparedness and Response
TS 9b - Emergency Consequence Management
TS 9c - Emergencies: Lessons Learned & New Threats
TS 10a - Existing exposure situations due to NORM and natural radiation
TS 10b - Existing exposure situations due to accidental contamination and nuclear legacy - long term management and remediation
TS 10c - Radon
TS 11a - Protection of the Environment
TS 12a - Fukushima: Overview and Dispersion of Radioactive Material
TS 12b - Fukushima: Emergency Planning and Communications
TS 12c - Fukushima: Monitoring and Dose Assessment
Poster Sessions
Those submitted papers not selected for oral presentation were allocated for poster presentation, arranged within Topic Areas. The posters were divided into two groups, each poster being displayed for two days – either Monday/Tuesday or Wednesday/Thursday. It was requested that all posters were submitted electronically in PDF format and could therefore be downloaded and viewed by delegates at any time during the Congress (although not all authors complied). Provided that a poster PDF was available, authors were given the option of not providing a paper. Rapporteurs also presented key features from the posters during the relevant Technical Session.
Symposia
Selected topics of current significance were addressed through specific sessions with invited speakers and wider discussions.
S 3.1 - Radiation Protection Culture
S 4.1 - Affected Populations Experiences
S 4.2 - Teaching Radiation Protection in Schools
S 7.1 - Medical Risk and the Public
S 8.1 - Stakeholder Involvement in Waste Management
S 9.1 - Medical Countermeasures against Serious Radiation Exposure
S 10.1 - Radon Exposure
S 11.1 - Protection of the Environment
S 12.1 - Japan Health Physics Society Fukushima Symposium
Fora
Key current aspects of the work of our sister international organizations were explored in these sessions.
F 2.1 - Dosimetry and Measurement - ICRU
F 3.1 - Ethics and Values in Radiation Protection - ICRP/NEA
F 3.2 - Legal Aspects of Radiation Protection - INLA
F 6.1 - Worker Education and Training - IAEA/ILO/NEA
F 6.2 - Safety and Security of Sources - WINS
F 6.3 - Nuclear Industry Forum - WNA
F 7.1 - Role of the Qualified Expert in Hospitals - IOMP
F 7.2 - Global Health Care Perspectives - IAEA/WHO/PAHO
Refresher Courses and Workshops
The Refresher Course programme, together with two Workshops, provided delegates with the opportunity to update their knowledge in specific areas of radiation protection science and practice.
Congress Conclusions
A brief summary of key points from the Congress was presented in the final plenary session. A more detailed document presenting the Congress Conclusions was prepared by the Topic Area Leads and the ICPC which, after a period of consultation, was published in the December 2012 edition of the Journal of Radiological Protection.
The final plenary session also presented an overview of the current IRPA activities.